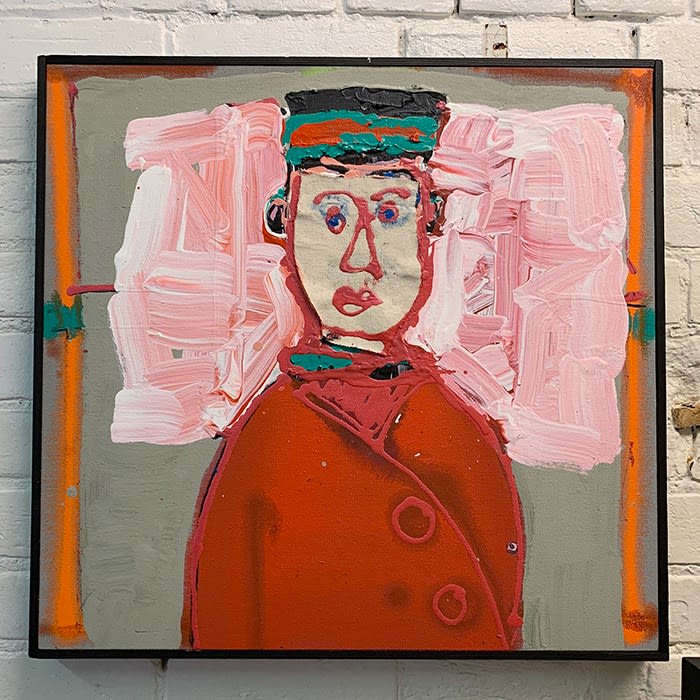 Peter Rodulfo (born 1958, Washington DC) is an artist and sculptor who spent much of his childhood travelling across India and Australia, before settling in Norwich where he studied at the Norwich School of Art and Design (now Norwich University of the Arts) between 1975 to 1979.

Rodulfo is based in Great Yarmouth, he has a prolific output often depicting the streets and characters of his home town as well as those he comes across while on his travels. He works in many different mediums: oil paint, watercolour, etching, bronze sculpture and assemblages. His work can be found in both private and public collections.
---


Katazyna Coleman's work explores the impact of monumental structures of the 'unplanned' manmade landscape of former smoke houses and examples of hangar architecture that surround her studio in South Denes, in the harbour area of Great Yarmouth.
Katarzyna is originally from London and has lived and worked for many years in Great Yarmouth. While in London she studied at Hornsey College of Art 1979-1982, followed by Manchester College of Art (Manchester University) 1982-1983, gaining an MA in Fine Art.
SEE MORE OF KATARZYNA'S WORK HERE
---


During the last fifty years John Kiki has developed a rich figurative language that encompasses a fluid abstraction along side a changing caste of characters borrowed from Greek mythology, history genre paintings, and his own observations of how people interact in daily life.
Kiki's long career has included shows in celebrated galleries such as the Royal Academy, Tate, Hayward, Barbican, and
Serpentine in London, the OK Harris Gallery in Soho, New
York and the Galerie Wahrenberger in Zurich.


---


Brüer Tidman is probably one of the most identifiable painters to come from East Anglia. He has enjoyed a long career painting striking abstract work based around the human form, using a distinctive colour palette that pops with moments of intense colour. The lyrical loose quality of the figures in Brüer's paintings has only been made possible by his technical skill as a draughtsman, learnt early on in his artistic life.
---


Bridget Heriz has produced her beautifully modelled figurative sculpture from her studio in Great Yarmouth for the last two decades. Bridget has fashioned her lyrical constructions using wire and card and balsa wood. These seemingly simple materials are used to circumscribe a complex set of spatial relationships that outline negative space as well as describing aspects of the human form.