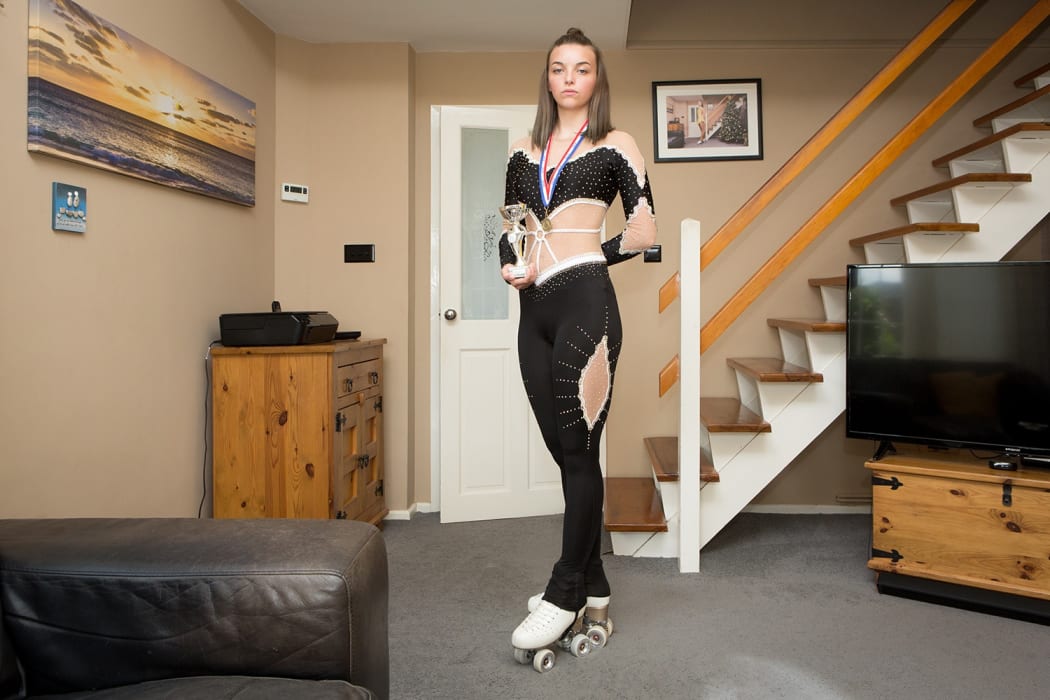 EVA
ARTIST STATEMENT
Reflecting on my teenage years and how sport helped my confidence in so many positive ways,
I decided to revisit my old home town and met so many young talented girls and women, who have dedicated their lives to skate competitively.
My objective is to highlight the importance this often forgotten sport, which is overshadowed by ice skating. The world of roller skating has many facets from artistic figure and free skating to disco and street skating.
I made many visits to the rink and the skaters homes, which helped me get to know each individual and explore, in-depth, the challenges each one faces. The dedication, athleticism and commitment has empowered and shaped them, achieving national and international recognition. The staged portraits in their homes, takes the skater out of context into the domestic and familiar.
'The Jump series', explores each skater being photographed at a high shutter speed. The physical strength, skill, emotion and facial expressions are captured, revealing each sportswoman in the moment of intense concentration - an act of boldness and determination.
The video clips were a collaboration with my good friend Marc Schlossman
who filmed the skaters in slow motion – while I directed. The idea was to capture their facial expressions and the time they were in the air, revealing the stages of preparation and landing the jump – which you cannot see with the human eye. There is an element of risk and freedom, seeing each skater leave the ground.
We hired an old community hall and spent a whole day filming each skater at set times. Marc did an excellent job and I am so grateful for his time and expertise. We are editing the video clips with different variations that will be exhibited with the stills, later in the new year.
MORE WORKS AVAILABLE IN OUR POP UP AT HOUGHTON HALL UNTIL NOV 1 AND IN OUR ONLINE SHOP
FROM DEBBY
My personal work is important to me because it is what I love doing, and it is true to me. I feel motivated and alive, which gives me the energy and fulfilment that is necessary to carry out a project. Photography is a powerful visual language and it has given me a passport into many people's lives. Self-initiated projects have always been at the forefront of what I do. I have travelled to many countries to work on projects that all started from a deep desire to find out more about people and their lives and environment. There is a lot of responsibility being a visual storyteller and how each frame is considered, emotionally, intellectually and aesthetically. I always aim to find a platform for the work to be exhibited and published.
I want the work I create to be for the people I photograph, and an audience, however big or small, to be educated and enlightened.