They include printmakers who use a number of different techniques: from screen printing, linocut prints, mezzotints and collographs, monoprints to photographic and drypioint.
Take a look at our collection of prints in browsers, at BallroomArts, Aldeburgh or visit our works on paper section of the website. All are available to buy.
Catherine Headley
In the last twenty years Headley has made regular visits to Brisons Veor, the artist's retreat on Cape Cornwall, from where she draws most of her inspiration. Headley is a member of the Leicester Society of Artists and Leicester Print Workshop. She runs a successful contemporary painting group in Stamford Arts Centre and has a painting studio in the building. She does her printmaking in a print studio in her garden in Rutland. In the spring of 2021 English Heritage asked Headley to create 10 collagraph prints, which would give 'an emotive, semi-abstract response to Stonehenge and the surrounding landscape'. The images have been enlarged and transferred to banners, which now hang in the Visitor Centre at Stonehenge.

Catherine Headley's framed prints based on her journeys to Cornwall

Ivy Smith
Smith is a Norwich-based painter and printmaker, with a well-established interest in depicting people and landscape. Having trained at the Royal Academy Schools and Chelsea College of Art, Ivy Smith has attained a BA Honours degree and a Post-Graduate Diploma in Fine Art Painting and Printmaking. Ivy often works on commissions, larger painted portraits, these can be family groups or single figures. The drawings establish the composition of the painting, and carry visual information about the sitters. Her wonderful woodcut prints and linocuts are a standout series of prints in this capsule collection created for "River's Edge"

Ivy Smith's large framed woodcut and other prints

Amanda Edgcombe
Edgcombe grew up in London, completing her BA in fine art at Trent Poly, specialised in print making for Postgrad at the Slade School of Art, London (UCL). She went on to study architectural glass at Central Saint Martin's London (University of the Arts London), for which she was awarded a Fellowship in Architectural Glass. Since moving to Suffolk her increasing familiarity with the rural landscape has changed her ideas of scale, colour, comparative viewpoint toward a new body of work.Amanda's first ideas for print found their way into a series of large-scale highly coloured geometric etchings. These were based upon the idea of the city block viewed from above, with recognisable components taken from maps and textured, woven textiles.

Amanda Edgcombe's framed prints, paintings and watercolours

Martin Mitchell
In his own words: "I have has always been influenced by a love of landscape and an interest in the natural environment. My work always begins with physically being in the landscape producing lots of location drawings and taking photos. I will return to the same place at different times of day and year, see the changes of weather conditions and seasons. Then work collectively from all the information I have gathered. As mobility became more of a problem, opportunities to get in to the countryside have become all the more precious. Now a short trip in the countryside has become an adventure. So the work is deeply observed with a quiet melancholy. The memories held within the landscape itself as much as my own."

Martin Mitchell's framed mezzotint prints on the left

Maria Pavledis
Pavledis is a Norwich based artist and printmaker whose powerful images take inspiration from the natural world of animal life around us, such as insects and birds, and connect these with mythology and the symbolism in stories and folklore. Her smoke drawings are created using the smoke from burning candles, creating rhythmic and hypnotic images. To make the smoke drawings, Maria works from underneath the drawing, lying down and then 'works into' the smoke image with a variety of tools. Maria has exhibited widely in Norwich and east of England and she is a member of London Organisation of Original Printmakers (LOOP). We are showing her "Smoky Moth" silver etching - an image derived from a smoke drawing.

Maria Paavledis' "Smoky Moth" etching, top right

Liz Taunt
Taunt grew up in Cambridge and went to art school in Cambridge, Devon and London. She has worked as an arts administrator and an art therapist, amongst other things. Liz trained as an art therapist at Goldsmiths, London University in the early 90s and has been exhibiting regularly since the 80s. She has taken part in open studios in London and Suffolk. Before returning to printmaking in Bungay, she made papier mâché vessels in London and experimented with dyeing and pattern making on textiles. She has transferred this experimental approach to her production process. Liz uses many different printmaking techniques including dry point, lino, collograph and monoprint, and has recently been making collages from discarded prints.

Liz Taunts framed drypoint prints on the right

Paul Wolterink
Wolterink produces beautifully realised screen prints span all points between poster and print. Their message is clear. Information is key, its transmission is accessible. And, like music can do, people may rapidly identify with the direct visual language of the prints. In Holland Paul studied at a crafts school that still taught the traditional techniques of sign writing and advertising painting by hand. His reputation after art school (graphic design) varied from working as a solo designer, to small partnerships, as well as working in smaller and bigger design studios. creating a steady output of commercial design work, mainly in the cultural sector, and as a lecturer graphic communications and type in The Netherlands and at NUA Norwich. We are showing a recent screen print titled "Oxytocin: The Cuddle Hormone"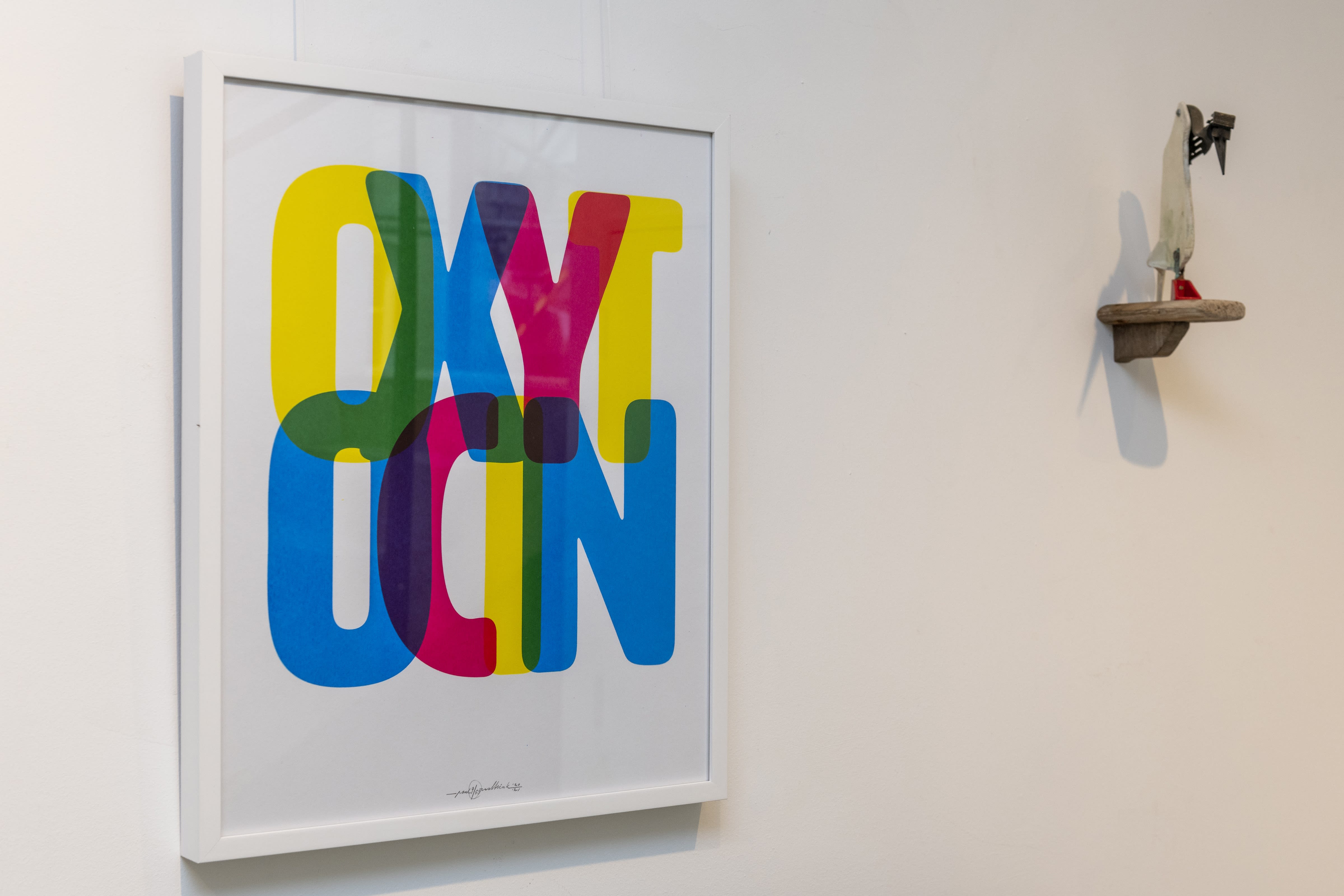 "Oxytocin" by Paul Wolterink